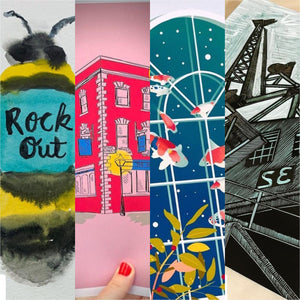 Gert Lush Gift Guide - PART 2
Welcome back for PART 2 of our Gert Lush Christmas Guide for Bristol based artists and independent businesses.
What did you think of our recommendations so far?  Is there a local creative in the South West that you'd like to see on future lists?  Get in touch and let us know your favourites.
We hope these lists will inspire you and give you loads of great ideas for gifts this festive season.
PART 2
In no particular order:
Striking and impactful prints by The Printed Life 
Colourful designs by Made by Meg Art
Wonderfully tactile pottery by Snooky Draws
Beautiful designs by Adriana Barrios
Bright and vibrant illustrations from Little Paisley Designs
Fun, colourful and funky jewellery and fashion from Dakota Rae Dust
Atmospheric and beautifully illustrated prints and cards from Lauren Gale 
Bright and alluring jewelklery by Rainbow Glass Creations
Wonderful illustrations and gifts from Dona B Drawings
Adorable prints from Rosie Webb Prints

Check out PART 1 for more great local art.
---