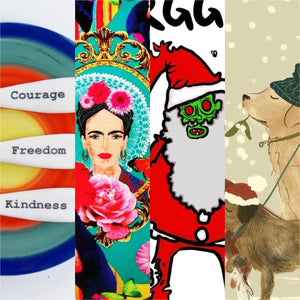 Gert Lush Gift Guide - PART 1
This pandemic has affected countless families and changed the trajectory of so many lives and livelihoods.
Like all small businesses and independent creatives everywhere we have found it incredibly hard this year. All our normal Sunday markets, Art trails and Christmas events have been cancelled. We all have been forced to make friends with virtual markets and algorithms.
And whilst everyone wades into the internet abyss in the hopes of making a few sales, we wanted to celebrate and showcase our fellow makers.

We have collated a few Christmas Gift guides made up of Bristol-based creatives who we love and follow.
One that celebrates all those makers who we have stood next to over the years in the freezing cold at Tobacco factory Sunday Markets, Arnos vale Christmas Markets, Made in Bristol or Harbourside Christmas Markets.
And also some who we have never met but admire their craftsmanship (and secretly want some of their goods for ourselves).

Hopefully, you will find that perfect gift. Support a local maker and buy something special and beautiful for yourself and your loved ones.

Until those glorious spontaneous days of going to a Sunday market return again, please feel free to check out the fantastic work by some incredibly creative local independents listed below. 
EJ & R 
Here is PART 1 of some of our favourites this festive season.
In no particular order please check out:
Fun and fabulous Macramé by That Rope Life

Beautiful ceramics by Wendy Calder Ceramics

Gorgeous prints by Emy lou Holmes
Artisanal design from Elizabeth Ballon Designs

Colourful and funky clothing by Ilo Organic Clothing

Lino prints to make you smile from Melanie Wickham Lino Prints

Hilarious illustrations by Dixon Does Doodles
Bright and vibrant homeware by Chimps Tea Party

Vibrant and intriguing homewares from Viva Los Muertos

Beautifully fun ceramics from Hanne Rysgaard Ceremics


What did you think of our recommendations?  Is there a local creative in the South West that you'd like to see on future lists?  Get in touch and let us know your favourites.
---