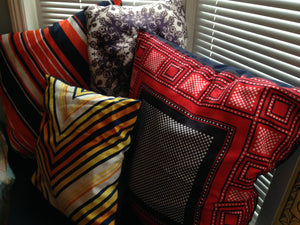 Beautiful Vintage Scarf Cushions
Bemmie is adding another feather to our creative caps.  We love colour and pattern and like Robin's Charley Harper Cabinet and our Travel Letterpress we try and create a colourful space in which to work and play.
Anyone who knows me knows that I love scarves.  I often will be seen wearing two at any given time as I hate to be cold and love the different textures, patterns, shapes and colours I can create wearing scarves as fashion accessories.  It's this love of scarves married with my mild obsession of sewing that allowed me to reimagine and repurpose vintage scarves, each with their bold, bright and eye-catching patterns, into giant throw cushions.
Last Saturday 4th June we spread the pattern love and launched our cushion range at the Lou Lou Vintage Fair at the Passenger Shed, Temple Meads.
Winner of the "best vintage fair in the UK 2013, 2014 & 2015",  Lou Lou's fair boasts 80 stalls of vintage fashion from the 1940s-1990s and homeware, a wonderful tea party and pop-up vintage beauty salon, along with a vintage inspired jazz band throughout the day.
We had a fantastic day at the fair, sold quite a few cushions and had loads of positive feedback. With free cushion cuddles given out left, right and center, we attracted alot of attention. Some visitors commenting  "Oooooo I love a good cuddle, they are so soft" and  "I love how big they are, I had no idea they would be so stricking in reality".
Thank you to everyone who bought a cushion.
---