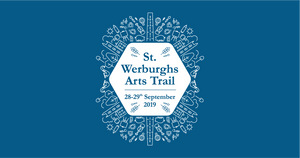 St Werburghs Art Trail
This weekend we took part in the annual St. Werburghs Arts Trail.  The Trail takes place in houses, shops, parks, pubs and community venues across St. Werburghs in Bristol over the last weekend of September.  We were displaying inside room 7 within the St Werburghs Community Centre alongside 8 other artists over the 2 days.  We were so happy to showcase our new Afro Christmas Cards, which we are so happy to say were well received.  We also made our other musician Christmas cards available as well, as its almost time for Christmas. Along with our selection of prints. It was great to hang out and meet other artist and share our products with the local community.  Thank you to all the organisers (who volunteered their time) and to all the artists taking part.  It was a great weekend! 
Below are some photos of work from other artists we saw and loved over the weekend.  Can also see more work using the hashtag #StwerburghsArtsTrail on social media.
---