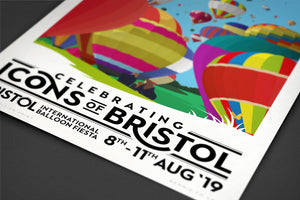 Special Edition Bristol International Balloon Fiesta Print 2019
When we moved to Bristol, the Fiesta was one of our highlights.  The wonder of sitting watching Hot Air Balloons sail away into the blue sky.  Its magical!  It is this we have tried to capture with the print.  Drawn in a slightly stylised manner, it's a bright, colourful print, filled with delicate details.  Including many of the iconic Hot Air Balloons from Bristol, as well as the Concorde. 
This is the final official print we created.  Which is
available from our website here.
We loved the imagery so much, we're also making a print available without the text,
available here.
This year was the second year we've had a stand trading at the Fiesta, and despite the weather (which affected the whole country) we had a blast!  Thank to everyone at the Fiesta for a great weekend. And to the team organising the promotion for Fiesta you guys rock! Thank you allowing us to create this print.  It is very special for us to celebrate our new home in this way.
---
The Bristol International Balloon Fiesta took part at the
Ashton Court Estate
from 8-11th August 2019. The free event is Europe's biggest Hot Air Balloon event.  It features over 100 Hot Air Balloon taking off at dawn and dusk, as well as 2
Night Glows
on Thursday and Friday, in which the Balloons light up the sky in time to music.  Along with the Balloon launches, there are trade stands, fairgrounds rides and entertainment for all.  Its a must visit!
---