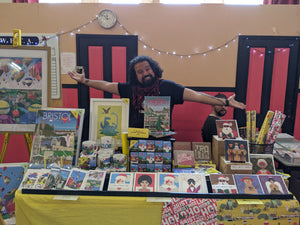 There's Art in 'dem Hills.
Art on the Hill Arts Trail 2019
One of the beautiful and exciting things about our adopted city Bristol; is its art scene. In all its glorious forms, Art is alive and deliciously vibrant here and offers itself up to the world not only in the form of exhibitions, performance and studio open houses all year round but also the marvellous and organic wonder that are art trails.
Trails are the stuff of legend in Bristol, with dozens happening every year. Artists travel far and wide to take part in these almost religious annual events and communities around the city have come to fully embrace and expect this genteel way to consume their art.
The trails do exactly what it says on the tin. Artists open up their studios, shared spaces and houses and welcome in complete strangers, into the homestead to view, engage and hopefully buy their artwork. A brilliantly simple concept that allows artists and art lovers to get up close with art in a relaxed environment and bypass the formality of the museum art exhibition scene. And there is something poetic about viewing a person's artwork and craft juxtaposed to their personal belongings and holiday snaps on the mantelpiece.
Taking place all over the city each year usually between February and November, Trails are spread over two days during their respective weekends, making them a lovely fun and immersive way to spend a lazy weekend hunting for gifts for friends and family and of course seeing some great art. 

Living south of the river, we are spoiled with the number of trails within walking distance of our house. It's one of the first community things we did when we moved into our new home to get to know the neighbourhood. Over the years we have pounded the pavement, map in hand with thousands of other art lovers. Been inspired by and bought some amazing art and craft; made lifelong friends and of course taken part in many a trial as exhibitors.
This year, our local trail, The Art on the Hill in Windmill Hill and Victoria Park hosted over 70+ artists spread out over 50 venues showcasing everything from painting, illustration, ceramics, sculpture, crafts, textiles and interactive installations. With amazing performances from local bands, singers, dancers and poets and workshops galore.

Since 2016 we have been exhibiting in a shared space at the Windmill Hill Community Center alongside some amazing fellow artists, crafters and performers. Every year we like to launch a few new products at the trail and this year was no exception as we officially unveiled our 2019 Advent Calendars and a new range of Christmas cards.
And if that wasn't fun enough, in addition to exhibiting our Bemmie wares, we also did a spot of pop-up catering with a tea and cake stall for our sister company Saint Cooks.
---