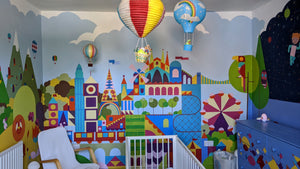 Decorating our kids nursery
When we learned we were having a baby, pretty soon afterwards we knew that we had to decorate their room. To create a special space for them, something playful, something colourful, something to inspire. 
With that in mind we decided that we couldn't just do the one wall, we had to create the feeling of a complete space. We had to decorate all 4 walls. Now our house isn't large, and the room isn't that big, whatever we did couldn't make the space feel like its closing it around you.
Here is want we came up with it.
Considering all the elements of what we wanted and hope to do, we settled on creating different scenes or environments on each wall. The thinking behind this was that we could show more and hopefully inspire our baby in many many different ways. Showing all the potential and possibilities of what they can do and become as they grow up. All painted in a fun, colourful manner!
Wall 1
One wall is a mountain environment. Which includes different animals to reflect the natural world. This then allows us to talk and hopefully tell stories about animals and nature. We also put a girl at the top of the mountain, to let her know that she can climb if she wants.
Wall 2
The next wall is our cityscape. Painted in an abstract manner, the shapes reference things like the Eiffel Tower and Clifton Suspension Bridge without being photorealistic. We were trying to show the colour and energy of a city, and the things you can do.
Wall 3
Our next wall is a seascape under a night-sky. For the seascape there is a lot of fish, again done in an abstract, colourful, fun style, combined with things that similar to the mountain scene allows for stories. We could have a story about shipwrecks, treasure, or driving in a submarine. Things to inspire the imagination. 
For the night-sky we tried to combine learning's with inspiration. So the planets, and constellations are include to hopefully inspire learning. Along with astronauts, rockets and the ISS. 'Cause that might inspire her, dunno.  
Wall 4
For our last wall its less of a complete scene or environment. Due to the window it kinda completes the seascape, night-sky with the mountain scene. Included are things from both, so it looks like the sea is meeting land and breaking over the rocks under the northern lights.
Getting it all to work together
For each scene we were very considered with the transitions from one to the other. We used clever visual tricks to ensure that it looks organic and natural the way things flowed together and that you didn't notice it, without looking for it.
We also worked in the ceiling of the room. We had the clouds breaking from the ceiling or onto the ceiling. This helped to make the painting seem more organic in the room, while also helping to extend the space. So it didn't feel like it was closing in on you.
The finished room
We are very happy with the finished decorated room. It was alot of work! At points seemed never ending. We sketched out our ideas first before painting a few coats so it took a little while to complete. But wouldn't change it. Was totally worth it.  Our little one loves it! That is all that manners really.
Here are some of our favourite details.
---